Santa Monica is moving forward with two positive projects which should improve the quality of life for many residents.
1. The City is currently shortening the Airport runway by 1500′ so that it will become safety compliant and to exclude larger jets. This runway shortening project might also provide the opportunity for additional new park access space at the ends of the runway.
SMO is now closed to all air traffic from
9pm-7am
and will close ENTIRELY for two weeks at the end of the year until the runway shortening project is completed.
2. The 12 acres of the Airport Park Expansion currently being designed by noted park designer Mark Rios, has moved forward to the important Environmental Impact Report stage. The park design will include full size playing fields, pickle ball courts, community gardens, playgrounds, walking paths and will provide much needed new recreational resources and opportunities for our community.
The Environmental Impact Report is now available for you to
review
.
Your comments are invited and may be submitted, in writing, by
5:30 PM
on
Monday Dec 11, 2017
to:
Rachel Kwok
Environmental Planner City Planning Division
1685 Main Street
Room 212 Santa Monica, CA 90401
Email:

[email protected]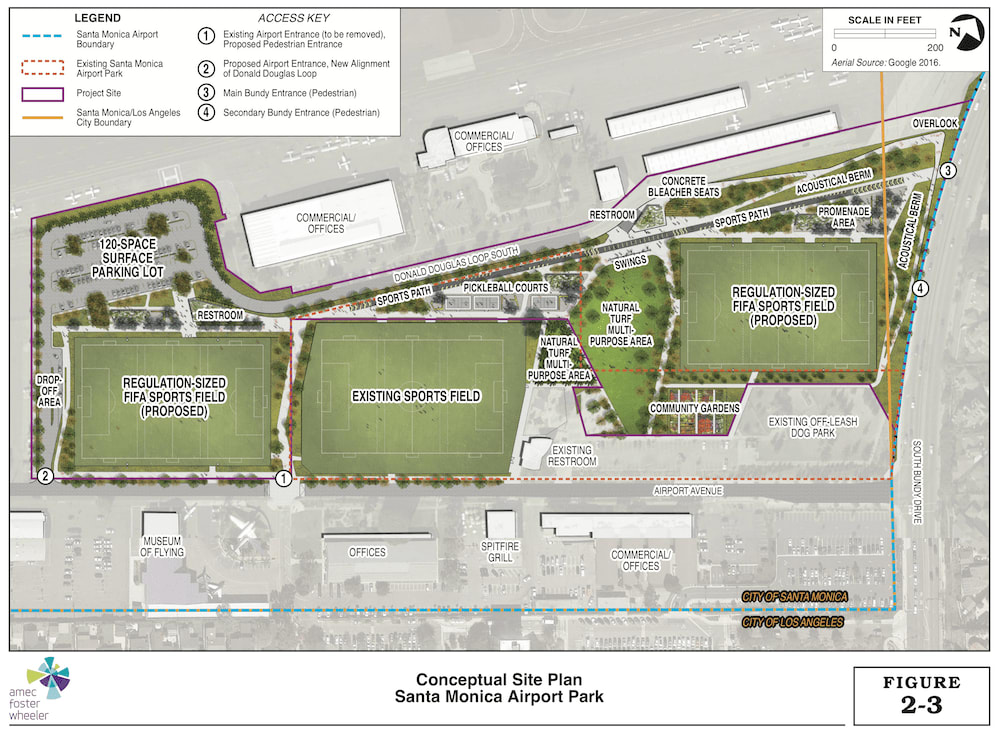 This update provided by Airport2 Park. The Santa Monica Airport2Park Foundation is a 501(c)(3) nonprofit organization. All contributions are tax deductible. For more information, go to:
airport2park.org
,
Facebook.com/airport2park
, or Twitter @airport2park