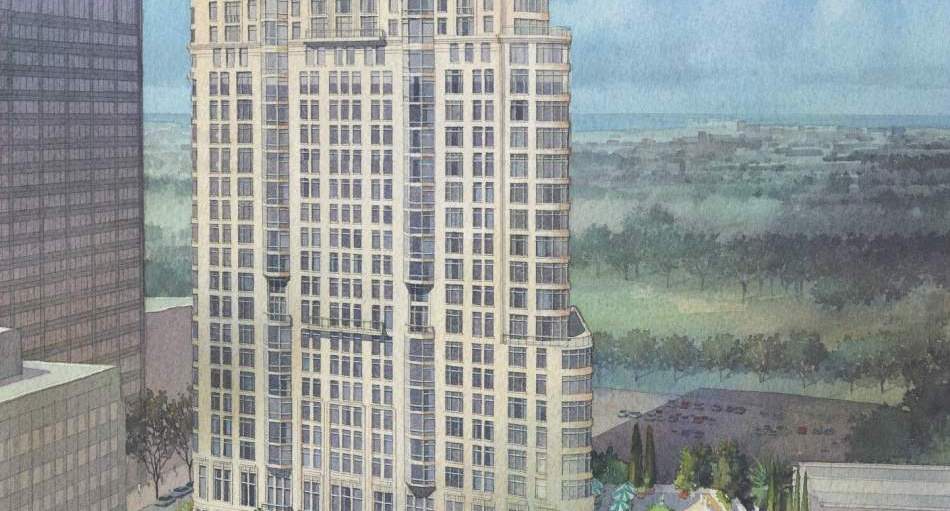 A nearly 10-year-old plan for a high-rise development in Westwood has shown its first sign of life in years.
Los Angeles-based developer Indivest has applied for the first in a series of building permits needed to construct the Gayley at Wilshire, a proposed 29-story condo tower near UCLA. The project, named for its location at the intersection of Wilshire Boulevard and Gayley Avenue, is entitled for 144 residences above a podium structure featuring commercial space and amenities and four levels of basement parking.
Although entitlements would also allow the project to be built as a 250-room hotel, that options has reportedly been abandoned after the completion of an on-site hotel at the UCLA campus.
Robert A.M. Stern Architects is designing the approximately 427-foot tower, which would rise from a triangular plot that formerly housed a video rental store. An official website states that its design was inspired by New York's iconic Flatiron Building.
A timeline for the project is unclear. Entitlements for the Gayley at Wilshire site will remain in place through 2023.
See full story at:
http://urbanize.la/post/developer-files-permits-flatiron-inspired-westwood-tower